So often we hear, or we use the excuse of, "I don't have time" to forgo the things that are most important to our health and wellness. How often do you hear or have used the following?
"I don't have time to exercise."
"I don't have time to mobilize or stretch."
"I don't have time to read."
"I don't have time in my busy schedule to make a nutritious meal or meal prep."
Here's a breakdown of your entire week to give you an idea of why time is NOT your limit.
There are 168 hours in 7 days. We spend approximately: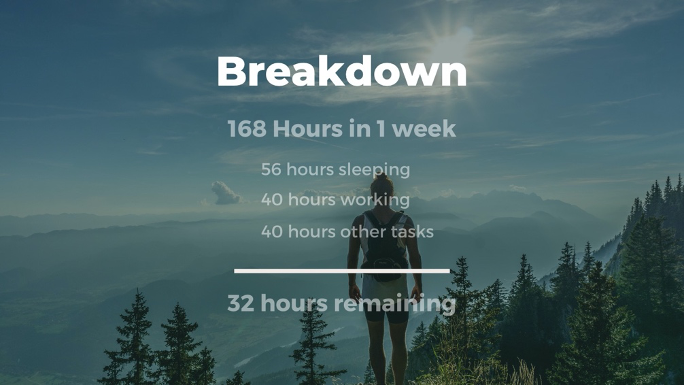 That leaves us with a total of 32 hours to distribute throughout the week.
Within that 32 hours, allocating 30 minutes a day to being active will take away 3.5 hours.
Within those hours, allocating 1 hour a day to read, listen to a podcast / audiobook, mobilize, and stretch will take away 7 hours.
Within those hours, allocating 2 hours on one day of the week to prepare meals / food for the entire week will take away just 2 hours of your entire week.
With all that said and done, you still have 19.5 hours remaining to do as you please.
The Takeaway
You have time. You have time to make your health and wellness a priority to ensure you can still run around with your kids and pets, to ensure you can be mobile and self-sufficient as you age, to ensure that you mitigate the risks of illness.
Time is not the limit.